Snowed in, Book Release for Earthbound Jan 30!
Snowed in with this winter storm! I am longing for sunshine – anyone else?
EARTHBOUND, Book 3 in The Elemental Clan Series, will be released tomorrow, Jan 30!!!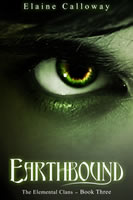 For those of you who sign up for my newsletter, you will get 65% off the e-book price! Sign up on the home page.
Thx!