New York Adventures - #RWA15
New York City. The Big Apple.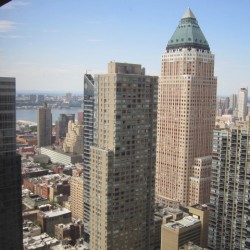 What a place. And I've only been here 2 days.
I left the house at 6 a.m. on Monday, went straight through the Starbucks drive-thru and got an iced coffee to keep me awake as I headed to the airport. So glad I allowed for time because the security lines were ridiculously long. Wrapped around the atrium several times long. It reminded me of seeing the Empire State Building the last time I was in New York. There's a line. To get to another line. To jockey for position in yet another line.
Note to self: do not try to go see the Empire State Building at sunset, and do not be fooled by short lines. They are never short. How Meg Ryan and Tom Hanks ever got up there at the perfect sunset moment to meet up for Valentine's Day in Sleepless in Seattle is a Hollywood hoax.
Anyhoo, there's much construction going on here in NYC so even the air conditioned taxi only moved at a snail's pace to get us to Times Square. The President was also in town so that only added to streets being blocked off and more crowds.
After getting settled into our Times Square hotel and vegging, I met up with some local friends here and we visited a few familiar haunts. For those travel oriented, here you go:
Monte's in The Village. Fabulous Italian, a family run place for close to 100 years. How a family has worked together and maintained a business for almost a century is a testament to how well it is run. Most families wouldn't even want to work together in a professional way.
La Lanterna, also in the Village and closer to NYU. Wonderful and intimate cafe for coffee, gelato, anything you want. Those of you who read my 2nd book in the Elemental Clan Series, RAGING FIRE, this is the place my characters frequent. It's an essential part of the NYC experience.
Tuesday was filled with more sightseeing, including a lovely place to have breakfast and coffee in the West Village called The Bus Stop Cafe. I love the West Village. It's the only place I've been in New York that doesn't feel as crowded and crazy as NYC can seem (especially in the Midtown/Times Square area). It's also one of the few areas where you'll see people walking their dogs. Everyone just seems more laid back here.
Did I mention people walk dogs here? I even saw a couple walking a Great Dane. A GREAT DANE. In New York City!!!
Then we went to see the High Line. For those who don't know, the High Line used to be a train line but after years of being abandoned, the city turned it into a park, walking path, and great place to enjoy views of the Hudson River while surrounded by flora and fauna.
Here's a few pics near the 14th Street entrance: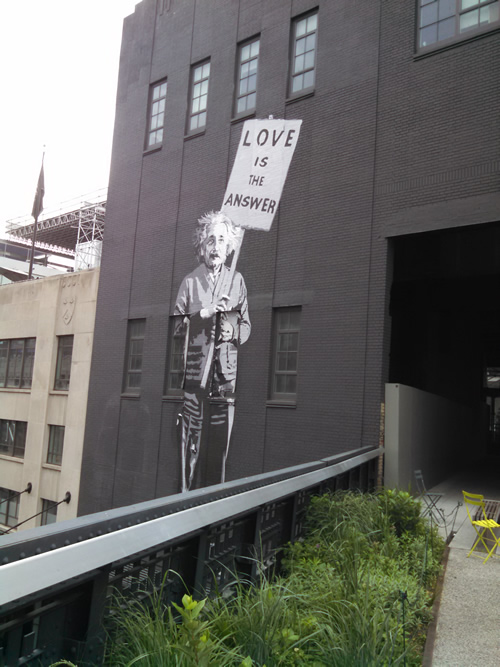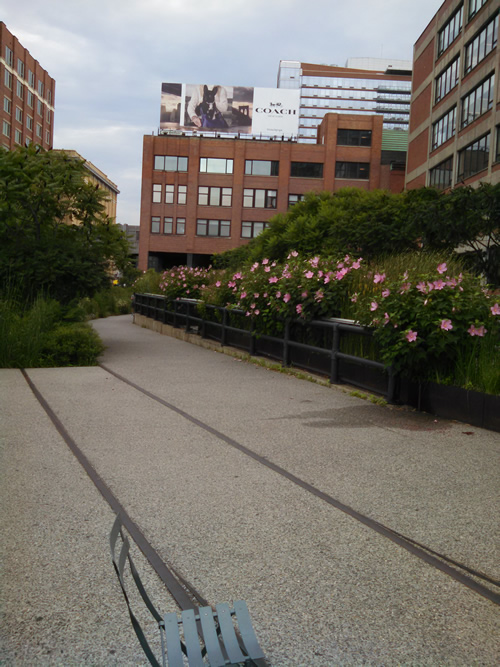 We did the Circle Line boat tour later in the day. Even though I've done the abbreviated tour (1 hour) before, this 2.5 hour one still had interesting info and fun tour guides. They pointed out popular spots in movies, where Sigourney Weaver lives, and we also saw the Brooklyn Bridge and Statue of Liberty. Some photos: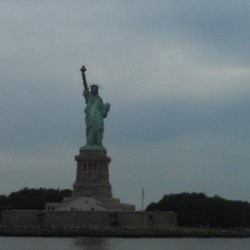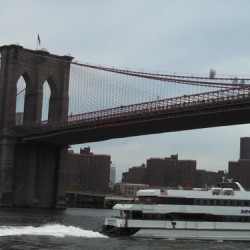 And then came Tuesday night. Broadway. The best night I have ever experienced on Broadway.
My friends had somehow managed to snag 2nd row seats at Studio 54 Theater where ACT OF GOD, starring Jim Parsons from The Big Bang Theory, is playing. So we go inside the famous old club from the 70s and go to our 2nd row seats.
Blog coming soon, telling the fun of seeing Jim Parsons on Broadway…