Mardi Gras Custom #1 - Countdown to KREWE OF SOULS
Hello everyone!
While Mardi Gras and Carnival won't occur in New Orleans and elsewhere until February or March, I wanted to do several blog entries on the customs in prep for my parade float themed book release of KREWE OF SOULS on November 18.
So…
Mardi Gras Custom #1 – The King Cake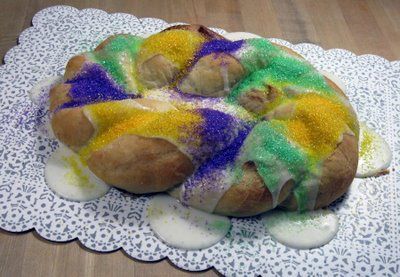 Recipe for how to make a King Cake
There are many ways to make a King Cake, but the way I remember it from grade school was, it's like a round loaf of French Bread and there is candied sugar in the colors of purple, green, and gold sprinkled on top.
Honestly, I never liked the taste of the cake as it was too heavy/doughy for my preferences, but the tradition did make for a fun one. There is a tiny plastic baby that is inserted into one of the pieces when the cake is made. Whoever "gets the baby" piece has to bring the next King Cake. 
In elementary school, we had King Cake parties every Friday for the 4-5 weeks leading up to Mardi Gras Day (also known as Fat Tuesday). I'm honestly surprised that we didn't break a tooth as we eagerly bit into the pieces of cake, but as far as I know, no dental emergencies happened.
Contrary to myth, Mardi Gras is not just 1 day and it's not just the wild parties on Bourbon Street in New Orleans. The holiday parade custom actually started in Mobile, Alabama, and eventually moved to New Orleans.
The whole carnival season begins about 4-6 weeks ahead. Parades begin, King Cake parties begin, and everyone gets ramped up for the big day of Fat Tuesday.
More on parade customs tomorrow. If you want a carnival/Mardi Gras themed book set in Louisiana, pre-order KREWE OF SOULS now! It releases in 7 days!