So, What ARE Grits, Anyway?
As it turns out, it depends on who you ask! 
Growing up in New Orleans, and having relatives across the Southeastern Gulf Coast that we visited throughout my childhood, grits were a common breakfast staple. For those who don't know, grits are made from corn into a coarse meal and then boiled to create the grits consistency. See photo below of grits and butter.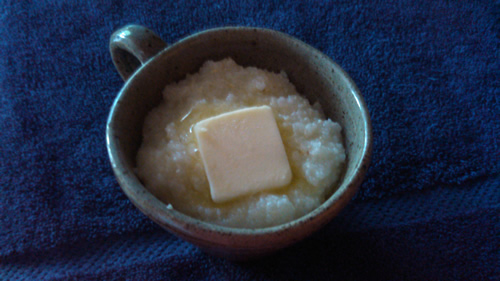 Weird thing was, as a kid I hated grits. Everyone made them runny without any flavor. Who the heck likes that, much less a kid??? It didn't occur to me until adulthood that people were making them wrong. When grits are cooked longer, they solidify and you can eat them with a fork. You can also add all sorts of extra flavors to them like shrimp & grits, cheese grits, etc.
Or, perhaps Magic Grits, as Joe Pesci would say. By the way, My Cousin Vinny was filmed in Monticello, Georgia, only a few hours from me. Below is a classic clip from the movie. 
But, getting onto my funny story.
The first book in my Southern Ghosts Series, NO GRITS NO GLORY, has Irish themes and is set in Savannah, Georgia–one of my favorite places. 
The book is part ghost story, part romantic suspense, part humor, part mystery.
And honestly? I expected a lot of people in the Northern USA to not understand what grits were. They're Yankees, so why would they know? 
Even when a reader in London contacted me and asked what they were, we were able to come to a mutual agreement on definition that grits were similar to polenta. 
Easy, right?
So when a reader from South Wales, UK, contacted me and said, "Um, Elaine? I really enjoyed the book, but what's with the title?"
Realizing he was in the UK, I immediately reached for my, "Oh! It's like polenta" answer.
Except apparently South Wales is different.
He went on to explain to me that in South Wales, "grits" is a slang word for – – MEN'S UNDERPANTS! 
Wow. That was so NOT what I had in mind for the book title! LOL. It became a funny story that I told at book signings and we continued to laugh.
But Wait! There's More to this Funny Scenario…
Last year, I had a book signing in Savannah, where my book is set, and I was talking to a group of people about the book. To break the ice and add some humor into the discussion, I told them the "In South Wales, grits are not breakfast" funny story. I figured it would be a good way to engage conversation.
To which, one man raised his hand. I responded to him. 
He said, "I'm from South Wales."
You could have hit me over the head with a feather! Of all the book signings I've done, in all the places, to be in that part of Savannah at that very moment, to have a visitor from across the pond who was there to corroborate my story, was simply hysterical in its own right. We had a great laugh, and it always makes for some great humor.
So, whether you enjoy grits (the breakfast food, not the underpants!) or not, NO GRITS NO GLORY has been a favorite with readers and I'm forever glad to have found so many people across the globe who've bought the book and enjoyed it. 
Lesson learned: Grits means different things in different cultures. Who knew?