No Grits No Glory
Book 1: Southern Ghosts Series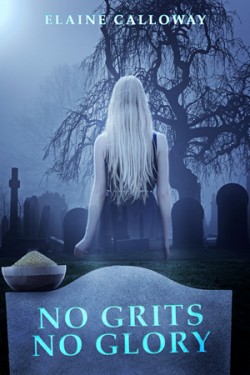 A 2015 Amazon #1 bestseller in ghost stories, No Grits No Glory is a haunted tale set in Savannah, Georgia, that is sure to delight.
Brianna fled to Savannah to escape the voices of the dead. Just when she thought she'd left all paranormal things behind, she discovers her house is haunted. Not just haunted, but haunted by Southern ghosts. These persistent beings not only hide her white shoes after Labor Day, but they leave grits-caked dishes in the sink, and swear to wreak havoc on her life – – unless she helps them.
Steven put Savannah in his rearview mirror years ago to follow his passion for music. When his band splits up and he can't reach his little sister for weeks, he races home—only to learn his whole family died in a mysterious house fire. The house Brianna now lives in.
Together, Brianna and Steven learn who murdered Steven's family and become caught in a web of intrigue that will risk their careers, their homes–but especially their lives.
Get 30 Days of Grits Recipes here. 
If you want to see visuals of Savannah and the characters I pictured as I wrote the book, click here to view the Pinterest Page. 
NO GRITS NO GLORY has received numerous four & five star reviews by book bloggers & general readers. Here are a few:
---
Character Picks: A Sheltie Sign for Brianna, an Acoustic Guitar Set for Steven, and a Bonaventure Cemetery print for tourists!