Water's Blood
Book 1: Elemental Clan Series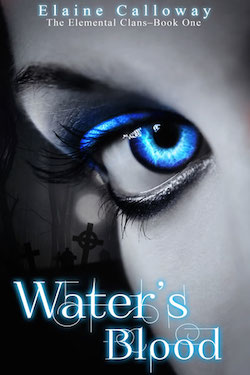 WATER"S BLOOD is the first book in The Elemental Clan 5-book Series, and it's set in New Orleans. 
In the Elemental world, there is a rule: Never mate with humans.
But for Brooke, a Water Elemental stationed in New Orleans, following the rules can be tricky. She's spent countless millennia protecting the innocent from the evil fallen angels, who reap human souls and force them to do their bidding.
Keeping her supernatural powers hidden–another rule–has begun to take its toll. When she meets Alex, an intuitive police officer with the NOPD, all bets are off. Not only does she fall in love with him, but she conceives a half-breed child, Ella.
Universe, ruler of the Elemental World, is furious. For her indiscretion, Brooke is forbidden to share a life with Alex, the love of her life. Even worse, she cannot reveal her true identity to her own daughter.
When Brooke learns that the fallen angels plan to snare Ella's soul by Halloween, she is hurled into a war between good and evil. Brooke broke the rules once by allowing love to interfere with her mission. Now she and Alex must put consequences aside to break the rules again–if they wish to save their daughter's soul.
Note: This book is also available in MUSINGS, a 14-author boxed set of paranormal/fantasy tales for your reading enjoyment!
To see character inspirations and photos of the New Orleans book setting, click here to visit the Pinterest Page!
---
Character Picks – Wine Glasses for Brooke & Great Cop Mug for Alex!