Raging Fire
Book 2: Elemental Clan Series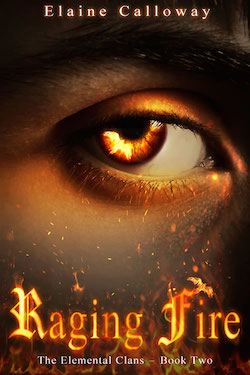 RAGING FIRE is the second book in the Elemental Clan 5-book Series and is set in New York City, including many of my favorite haunts! 
Even in the Elemental World, no one is immune from evil…
Phoenix, a hot-tempered Fire Elemental stationed in Manhattan, didn't think life could get any worse. To improve his people skills, he is demoted from Wall Street fat-cat to lowly paramedic, where he must deal with humans at their very worst–and most vulnerable. The humans he has protected for centuries, but never dared get close to.
Abby, an emergency room doctor who lives for the job, notices an emerging pattern. Suicide attempts have skyrocketed, flooding her ER with victims. Coma patients go missing with no explanation. In her quest to learn the truth, the last thing she needs is a cocky paramedic with a chip on his shoulder.
But when they are forced to pair up, tempers ignite. Abby is stunned and fearful to discover Phoenix is an Elemental being; Phoenix learns that the rampant suicides befalling Manhattan are not a coincidence, but a planned strategy.
Carlyle, leader of the evil Fallen Angel clan, has garnered special powers and has a new agenda–one that will reap innocent souls by the thousands.
Together, Phoenix and Abby must overcome their differences and save humanity–before they become the next target in Carlyle's crosshairs.
To view character and setting inspiration photos, click here to visit the Pinterest Page!
To get more behind-the-scenes info on this book and others in the series, join my readers list here.
---
Character Picks: EMT bag for Phoenix and the box set of ER TV episodes for Abby! Get running shoes to keep in shape like an ER doctor does!