Earthbound
Book 3: Elemental Clan Series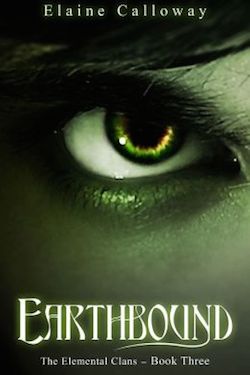 EARTHBOUND is Terran's story, the Earth Elemental who lives in Portland, Oregon.
And the human world is about to get complicated for the laid-back hippie! 
Some say history repeats itself, but for Terran, an Earth Elemental, history has returned and slapped him in the face. Along the Willamette River in Portland, Oregon, the Acobi Fallen Angels have decided to go underground-literally.
Resurrecting an ancient legend, the evil Acobi are trapping underage girls and shanghaiing innocent humans into slavery. Terran must stop the Acobi and keep the public away from the Shanghai tunnels, all while keeping his supernatural powers hidden.
Kelly Habersham, overachieving real estate developer, has finally convinced her father and brothers to give her the Portland condo project, which would require extensive construction near the tunnels. Determined to impress her father and make a name for herself in the family business, she is not about to let a Save-the-Earth guy get in her way.
Terran and Kelly must work together and come to a truce–or they may be the next victims.
To see photos of Portland, the setting, and other inspirational ideas for this book, click here to view the EARTHBOUND Pinterest Page. I love Oregon and always wanted to write a story that captured a mystery around Shanghai Tunnels. EARTHBOUND is that story. Click any of the vendor links to the right to purchase! 
---
Character picks: A "Keep Portland Weird" jacket for Terran and Oregon jams for a picnic for Kelly!