Book Release Day! Earthbound (Elemental Clans #3)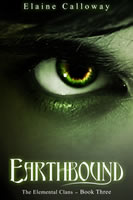 BOOK RELEASE DAY!!!!
Book Three of The Elemental Clan Series is now available! This is Terran's story, the Earth Elemental, and the book is set in Portland, Oregon.
Blurb:
History has been known to repeat itself, but Earth Elemental Terran never expected what would unfold along the Willamette River in Portland, Oregon. Seems the Acobi Fallen Angels have decided to go underground–literally. When Terran learns the evil clans are trapping underage girls and shanghaiing innocent humans to be shipped off for slavery, he has to come up with a plan to stop them, but he might wind up becoming one of their victims if things don't go as planned.
Buy Links:
* Note: Smashwords offers e-books in any format – NOOK, Apple/iPod, Sony, PDF, etc. The book is being distributed to Barnes & Noble but has not been shipped to their store yet. I am working on this, but meanwhile, you NOOK users can still purchase the book from Smashwords!